NDC Global Auditors – a new partnership
Soitron UK announced new partnership with the NDC Global Auditors Ltd.
Soitron is pleased to announce a strategic partnership with the NDC Global Auditors Ltd. a specialist training, consultancy and auditing company.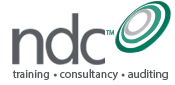 NDC Global Auditors Ltd. specialise in internationally recognised standards such as the International Standards Organisation (ISO) and associated management systems.
With cyber-attacks occurring with greater frequency than ever any company can suffer a breach in data security. The GDPR (General Data Protection Regulation) will be enforced from 25 May 2018 (despite Brexit) and UK organisations that process the personal data of EU residents have only a short time to do something about data governance. Now is the best time to tighten up data security in your company.
Is your business vulnerable?
Cyber security is becoming a major concern among small and medium size businesses, not just large corporations. A new government study found almost half of UK firms were hit by a data breach or cyber attack in 2016 alone, with the average cost being between £75K – £311K for small businesses.
How can we help?
To help you prepare for GDPR, together with NDC, we are holding a series of free Data Security & ISO27001 Information Security seminars:
    * 13.10. Redhill
    * 27.10. Basingstoke
    * 3.11. Southampton
You can register for seminar here.